5 ways to tell if you shouldn't (or should) hire a wedding photographer
With the proliferation of cell phones as well as new photographers jumping into the business (not to mention your uncle with his new camera) should you even hire a wedding photographer? Here is how to tell…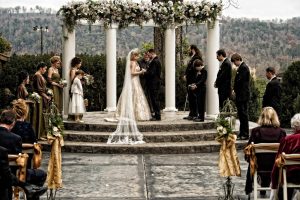 5 Ways to Tell if You Shouldn't (or should) Hire a Wedding Photographer.  Your just not "into" the photography portion of your wedding. One way to tell this is if wedding photography is far down on your list of importance. However if you have feel like this is a once in a lifetime event that deserves to be captured for posterity, you should look for a true professional photographer. One of the best ways to do that is to head over to The Professional Photographers of America. They have a search feature for photographers that adds the all important filter for a photographer who has earned their CPP designation. You can see where we speak in more detail about HOW to hire a wedding photographer. You can see that  HERE:You can check them out HERE:  The find a photographer area can be found HERE:
You're shocked and can't understand why it cost so much! I mean all those photographers do is click the shutter then go lean against the bar, right? Actually while the photographer may be working 10-15 hours the day of the wedding, the culling, editing and storing of those images will add a substantial  amount of time.  When you add all the time expended, overall business cost etc, it may surprise you that your photographer is charging a very reasonable rate.
Capturing once in a lifetime special moments means nothing to you.  Look, this is like having a debate over the style of clothes one prefers or what car one chooses to drive…there is nothing wrong with anyone who simply finds it not important. …BUT if you come down on the side where your wedding photography is unique artwork created for you OF you, if you are one of those people who believes after the wedding is over the cake will be gone, the flowers dead, the dress packed away,  the guests may not recall what was served…what is left  is each other, your rings and your photography. We suggest you consider pricing of something that isn't a commodity and  lasts a lifetime.
In your opinion anyone can be (and is) a photographer and what is captured on your friends phones looks the same to you as any other photograph. There is simply no way everyone sees the beauty and value of custom wedding photography….and that is perfectly fine. We are all different ..as we were designed to be….
It's all about the money. Each of us makes our choices based on our own personal preferences, style and yes, budget! While budgets are a reality, whether in the multiple thousands of dollars or less, matching your photography choices to what can be afforded. As we previously stated this will come down to how important your wedding photography is to you and that folks is why 5 Ways to Tell if You Shouldn't (or should) Hire a Wedding Photographer can be a useful guideline for your wedding day choices.